Massapequa Catastrophic Injury Lawyer
Trusted Suffolk & Nassau County Personal Injury Lawyer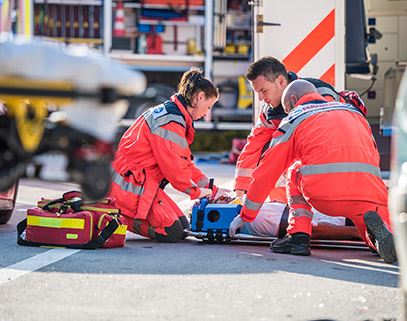 Catastrophic or serious injuries usually require long-term treatment or permanent care. They affect the injured party dramatically, causing disfigurement, paralysis, or other life-altering damages. They can occur in serious accidents, such as a construction accident while on the job, a car accident, a slip and fall or trip and fall accident, or even a motorcycle collision. A catastrophic injury could alter your future. Make sure you get the just compensation you are owed.
Call our Massapequa personal injury attorney at 516.246.2449 today.
What Is Considered Catastrophic?
Catastrophic injuries can happen in nearly any type of accident and vary in how they affect a person; however, there are certain accidents that are more prone to result in these serious injuries. These can include industrial or construction site accidents, motorcycle accidents, slip and falls from heights, and major car accidents.
Typically, a catastrophic accident results in injuries such as:
Loss of hearing / blindness
Spinal cord damage
Brain damage
Paralysis
Loss of limb
Disfigurement
Fractures, breaks, etc.
Catastrophic accidents could render someone incapable of working or functioning normally for a long duration. In the worst case, a serious accident could leave someone permanently injured.
Due to the serious nature of these accidents, victims often have expensive medical bills, therapy costs, lost wages / working ability, long-term care, living adjustments, and other costs to cover. All of these issues make filing a timely claim crucial. By having a compassionate Massapequa injury attorney represent you, you may be able to recover damages caused by the negligent party. Let our firm assist you with this process.
The Advantages of Hiring Our Suffolk County Injury Lawyer
At James J. Quail & Associates, P.C., we fight to get you the compensation that you deserve. We understand that you not only have immediate economic concerns that have to be dealt with, but also face long-lasting challenges and issues such as emotional pain and suffering and the loss of enjoyment of life.
We have been admitted to practice since 2000 and have the legal experience and knowledge to assist with your serious injury case. We know that time is of the essence in resolving your case, which is why we urge you to retain skilled counsel you can trust to resolve your case in a favorable manner. Don't risk your claim being denied or underpaid.
Contact a Massapequacatastrophic injury lawyer at 516.246.2449 if you need to file a claim for damages caused by the negligence of another.